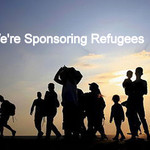 Together with other Richmond Churches, including South Arm United, Brighouse United Church, Steveston United, Richmond United and Richmond Presbyterian Church, we are sponsoring families. Our group is called "Safe Arms Richmond", because we live between the "arms" of the Fraser River, and we hope to welcome these people to our community with open arms.
We need to raise $40,000 or more to find adequate housing and help the families settle. We want to ensure that the families will become well integrated, speaking English well enough, and knowing the community well enough to get good jobs, help children in school.
After the initial flurry of government activity, the government has slowed the process down and we are seeking ways to help. The families we have sought to sponsor are waiting, some of them in great danger, while we find ways to reunite young chldren with mothers and sisters with brothers. Please pray for them. But also advocate for them. Learn about what's happening and how you can help.
Donations can be made directly to Gilmore Park United Church, please put "Refugee Sponsorship" in the notes line at the bottom.
Charitable Receipts can be issued.