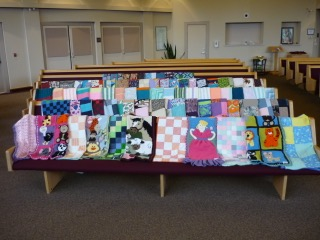 Project Linus Latest Creations
The Richmond Chapter of Project Linus has it's home at Gilmore Park.
On Saturday, April 14 a quilting bee was hosted at Gilmore Park to assemble quilts. Backings and batting was cut, layers were pinned together and then sewn. This was followed by trimming, turning and tufting. In addition, 26 blankets were crocheted or knitted by volunteers for Project Linus and each quilt or blanket has a special Project Linus tag sewn on a corner.
The 51 quilts and 26 blankets were blessed with prayer for their recipients in Worship April 15 and over the coming weeks they will be donated to health units, hospitals, senior care facilities and many other local organizations.
Thank you Project Linus volunteers!