Reformation & Communion - Interfaith Study
Reformation & Communion - Interfaith Study
Tuesday, January 23, 2018 View Next Date
7:00PM - 8:30PM
St Joseph the Worker School 4451 Williams Road, Richmond BC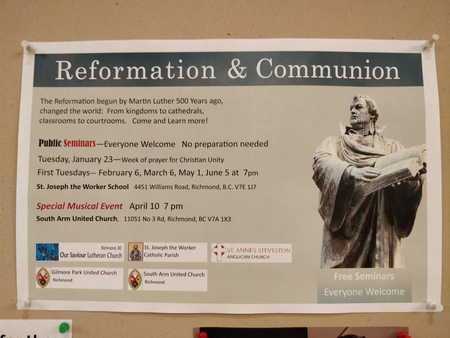 The Reformation begun by Martin Luther 500 years ago changed the world: from Kingdoms to cathedrals, classrooms to courtrooms.
Come and learn more at five monthly seminars and one musical evening!
Free Public Seminars Jan 23, Feb 6, March 6, May 1 & June 5 at 7 pm at St Joseph the Worker School - Everyone is Welcome. No preparation needed.
Special Muisical Event April 10 at 7 pm at South Arm United Church 11051 No 3 Rd, Richmond
These seminars are jointly presented by:
Our Saviour Lutheran Church, Richmond BC
St Joseph the Worker Catholic Parish,

Richmond BC

St Annes Steveston Anglican Church,

Richmond BC

Gilmore Park United Church,

Richmond BC

South Arm United Church,

Richmond BC
Return to Events
Save Event to your Calendar
---